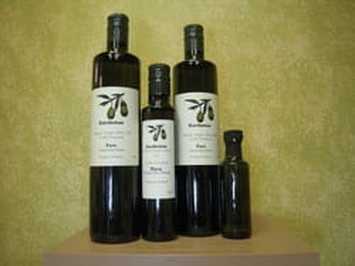 Kardamas Extra Virgin Olive Oil

Available for sale in three sizes:
​- Small - 250 mL - $10.00
- Medium - 375 mL - $13.00
- Large - 750 mL - $22.00




---
About Kardamas
Kardamas is the name of my family's hometown in the western part of Greece in the Peloponnesian peninsula, near Olympia, where the Olympic Games started more than 2,500 years ago.

Our olives are from the most prestigious olive groves of Greece, where the branches used to decorate the heads of the winning Olympians participating in the games were gathered. The olive trees are related with peace and all good wishes for harmonic life among people of all countries!

Olive oil, wheat and wine are the three gifts believed given to humans from the Gods, representing:
- Olive oil for health
- Wheat for prosperity
- Wine for happiness

Olive trees provide us with the most nutritious ingredient of the Mediterranean and international cuisine: Extra Virgin Olive Oil, made by squeezing and cold pressing the slightly ripened and turning olives. So, olive trees are related to health. It is believed they were blessed by Goddess Athena, the protector of the great city of Athens.

Kardamas Extra Virgin Olive Oil is from our family's farm, owned by my father for more than 40 years and now operated by my brothers. We press pure, filtered oil, preserving the taste, purity and fragrance of the olive fruit.

A perfect balance of purity and taste!